Our Sky Express flight to Santorini took off at 10:00 am, we had to get up early again to catch it. The public transportation system in Crete was very convenient, one bus took us all the way to the airport from Amoudara.

The flight from Crete to Santorini took only half an hour, we asked for pick-up services from the hotel, we were staying at Reverie Apartments, I was happy that I didn't have to worry about how to get there.
Our hotel is located at Firostefani, which is about 700 meters from downtown Fira, the receptionist suggested us to take the traditional path behind the hotel, which was built for donkeys to walk on, and where we could see the white villages clinging to the side of the volcanic cliffs.




Walked out the back door of the hotel, we were right on the paved traditional path.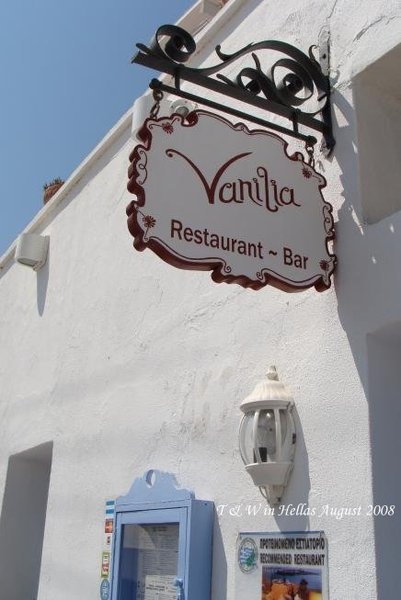 A restaurant right across from our hotel, the sign is neat, but we did not eat at the restaurant.




We walked toward to Fira.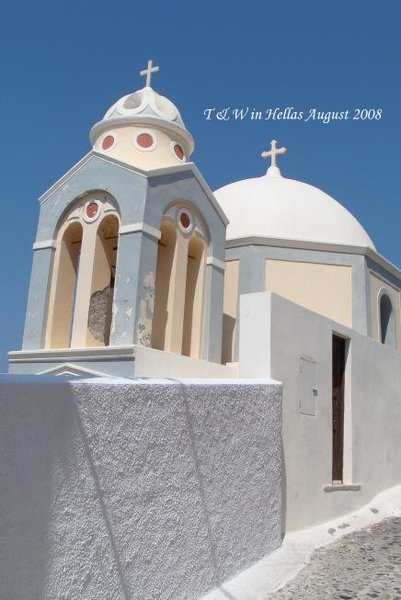 A tiny church on the path, there were tons of churches.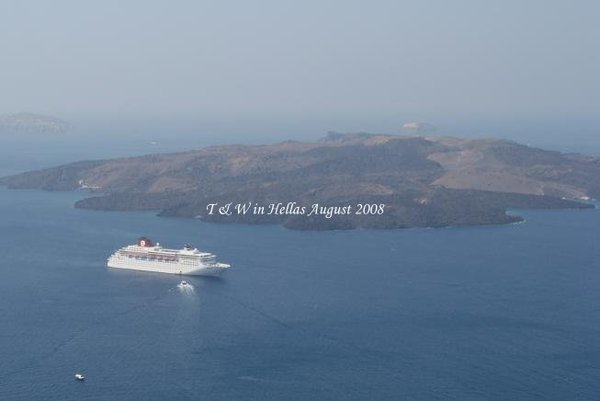 Nea Kameni is a active volcano. Santorini is widely believed to be a candidate for the lost kingdom of Atlantis. We didn't know why, but the whole island looked foggy that day.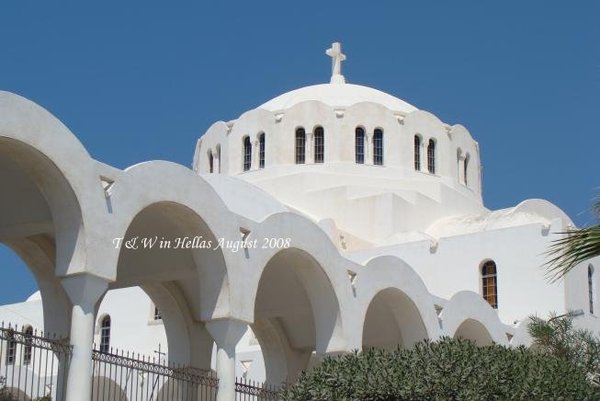 Ypapanti Cathedral at the heart of Fira. Walked into downtown Fira, had our lunch at a small cafe, Tim had severe sunburn on his legs from yesterday, we decided to slowly walk back to our hotel.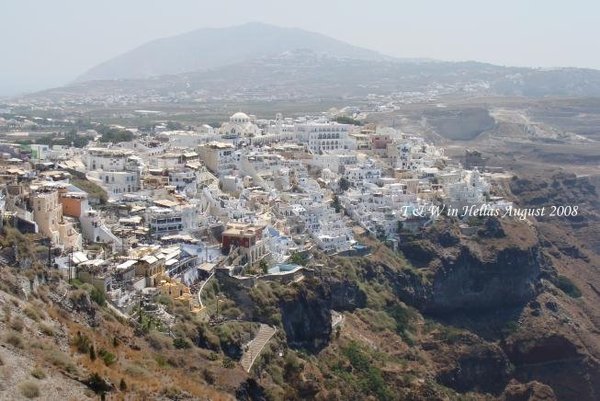 Fira overview. Although I had been wanting to see this scene for such a long time, but I felt something was missing when it was right in front of my eyes.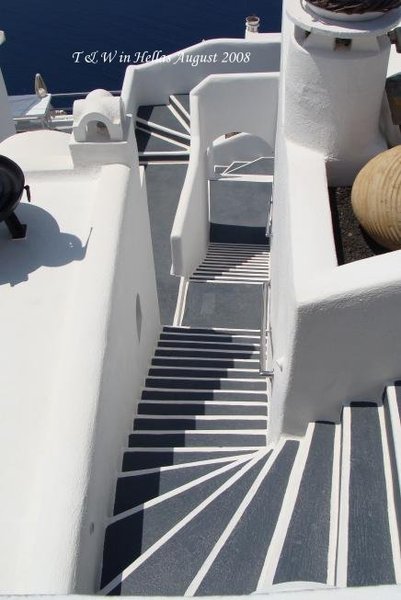 A hotel structure on our way back. Returned to our hotel room, rested for a few hours.




We came out from the hotel around 4:00 in the afternoon, walked toward north to Imerovigli town.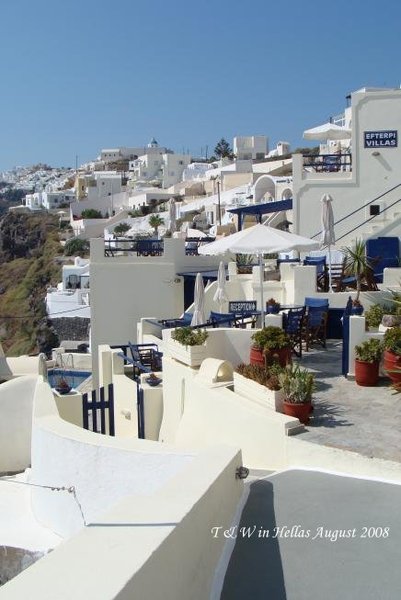 Imerovigli is a little quite town, about 15 minutes walking distance from Firostefani, where our hotel was located.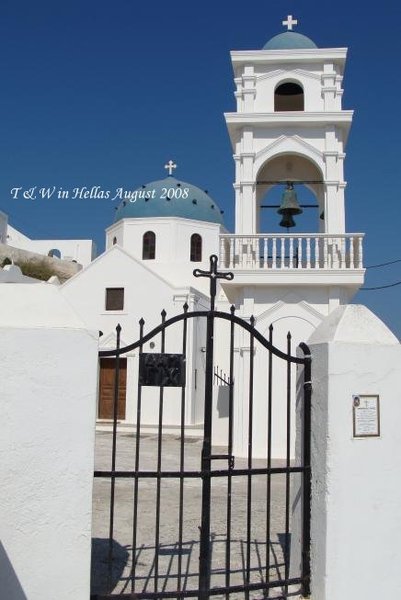 A church in Imerovigli. We didn't stay there long, and walked toward to Fira again.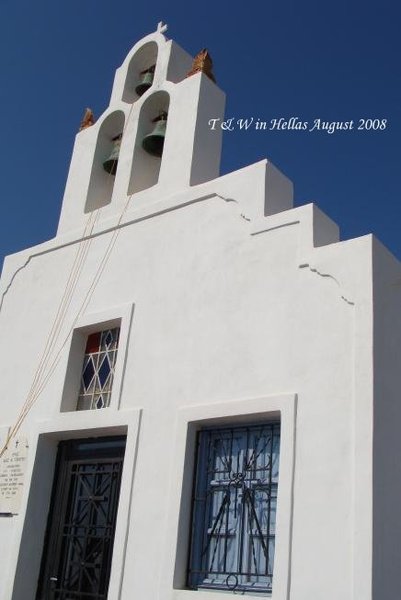 The bell tower of a church in Fira, we walked by this locaiton so many times. Sunburn on Tim's legs hurt him so much, we soon returned to our hotel again.




It was just passed 7:00 when we came out, the sun started setting, the whole island was dyed orange.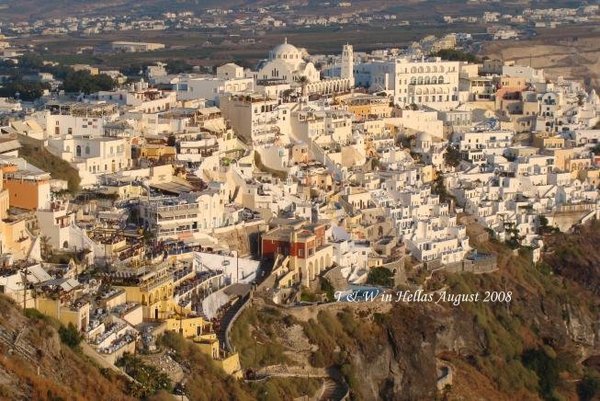 The color made Fira looked different.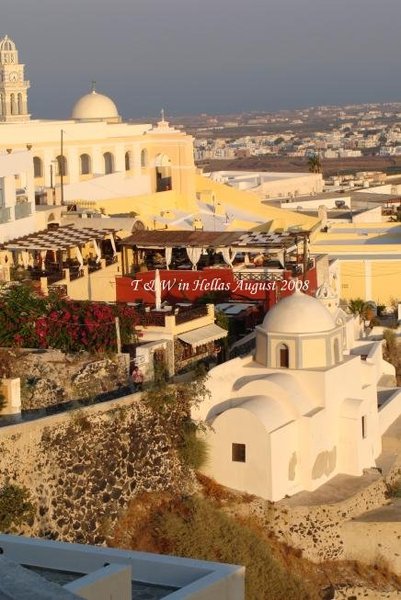 Everything became yellowish.




The sunset was around 8:00 pm, we couldn't decide going to Oia or not, and we stayed after all.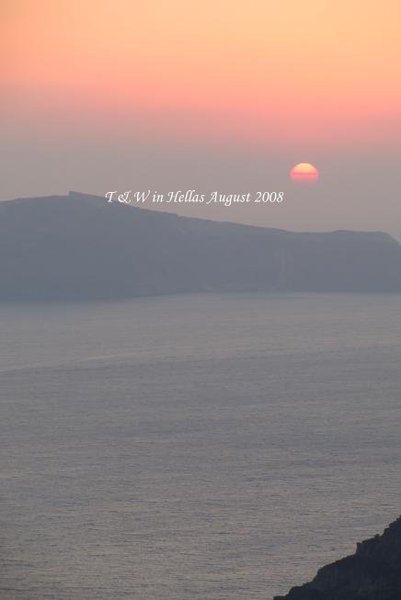 The sunset in Firostefani was buautiful, but without going to Oia, we would never know how was the sunset like in Oia, then we decided to go Oia the next day.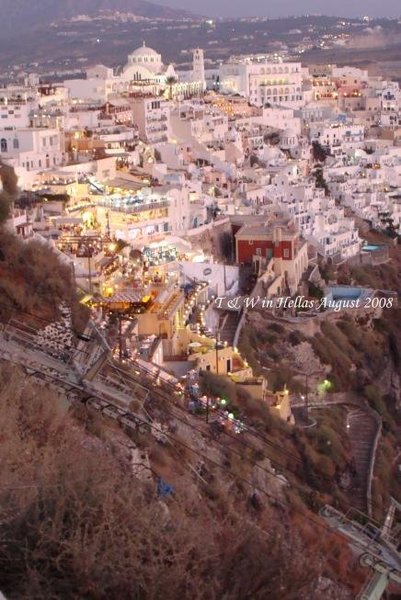 After sunset, lights in Fira were on. We spent some time looking for a restaurant in Fira town.




Didn't know why, I felt like having lambs that night.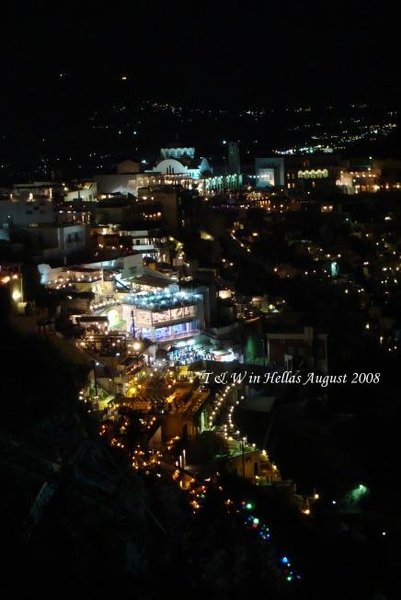 Fira town at night.