The second day in Santorini, we ate breakfast at the hotel room since we had a kitchen. We planned on going to the old port today, which was beneath the cliff of Fira town.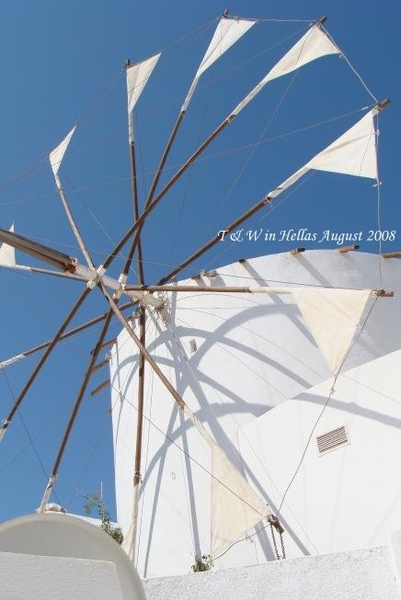 This windmill was actually part of a restaurant near our hotel on the traditional path.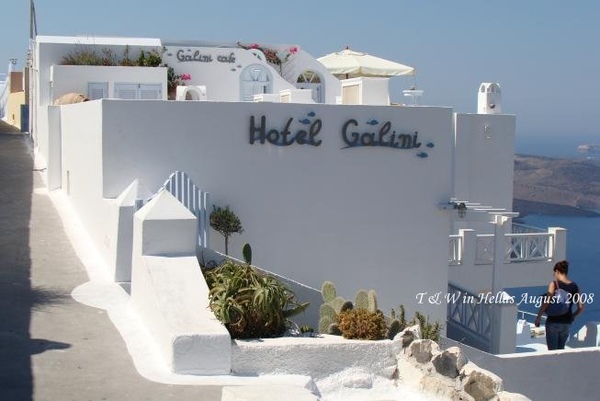 Walked pass this Hotel Galini few times, it looked so nice that I wish we had stayed here.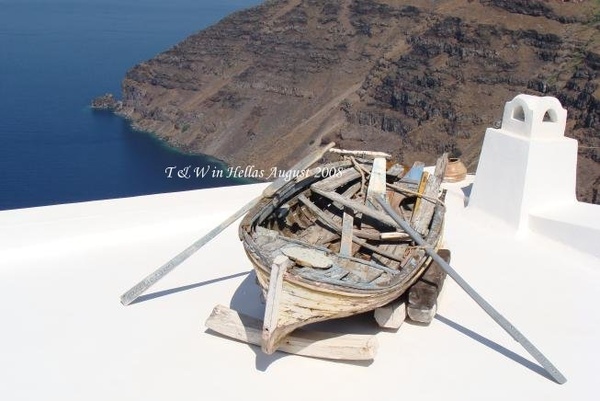 An ornamented boat on top of a hotel building, it bacame an attraction to all the tourists who had walked by.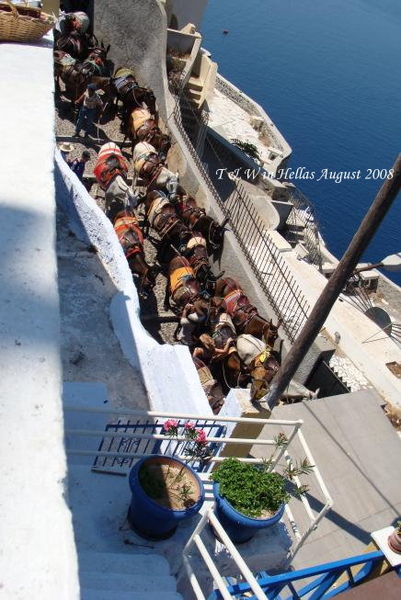 We encountered lots of donkeys on their way to 'work', there are three ways to travel between Fira and the old port; one of them is taking a donkey ride.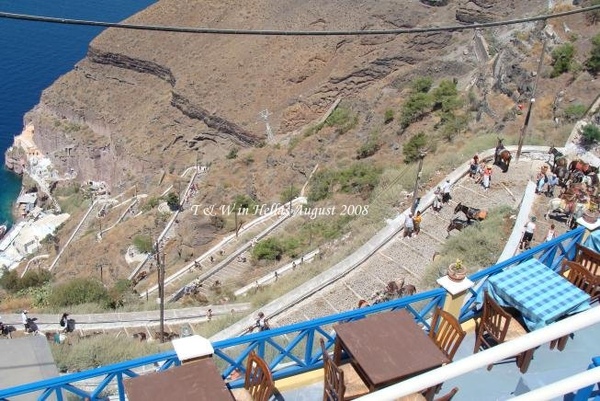 Cable car is the other option, but the line up was few meters out of the cable station that day, we decided walking the winding path, wich is the last option.
On the way down, we met a family of 4, they took donkeys to the old port, a kid named Allen picked a stubborn donkey that didn't want to move, Tim carried the rope of the donkey, led them all the way down. The family came on a cruise ship from New York, stopped at Santorini for the morning, and left for Mykonos in the afternoon.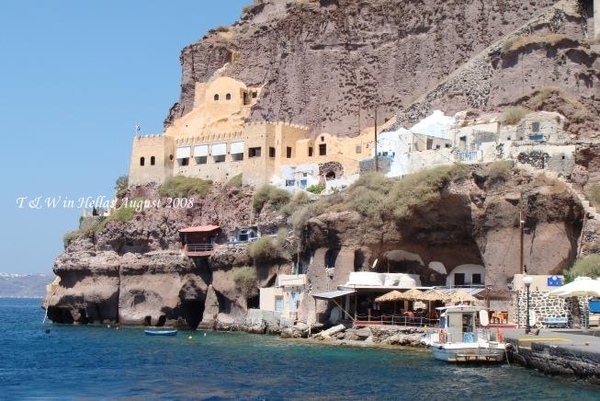 Old port, a hub for the boats that transporting tourists between cruise ships and Fira. There were two cruise ships stopped by Santorini that morning, included the cruise ship that Allen's family took.




It took about 15 to 20 minutes walking down to the old port, we had no energie to walk back up, so we spent 4 Euro each to catch the cable car.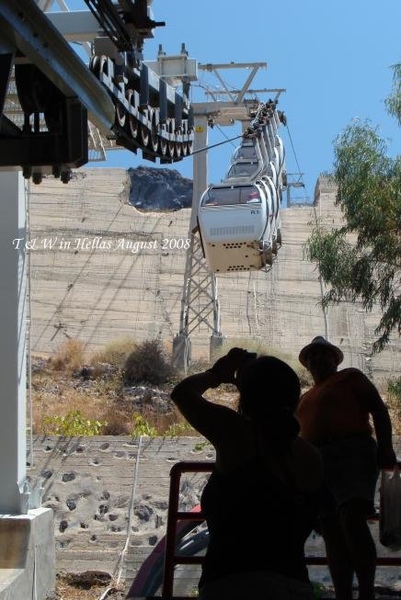 The upgoing cable car wasn't busy, we easily got on one, the ride was only a minute. And there were still tons of people waiting in the line to go down to the old port.



The pain on Tim's legs made him exhausted, he wanted to return to our hotel and took a nap.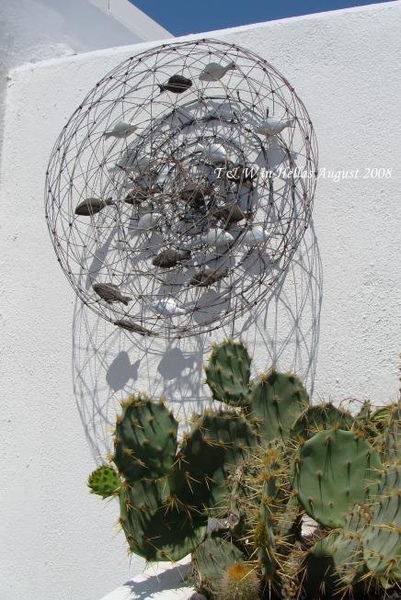 A decoration on a restaurant wall, we passed by this restaurant on the way to our hotel many times, I always wanted to take a picture of it.



When Tim was taking a nap, I brought my camera and went out for a walk by myself. Instead of taking the traditional path, I walked across the driveway in front of the hotel, to see how it is looked like on the other side of Santorini.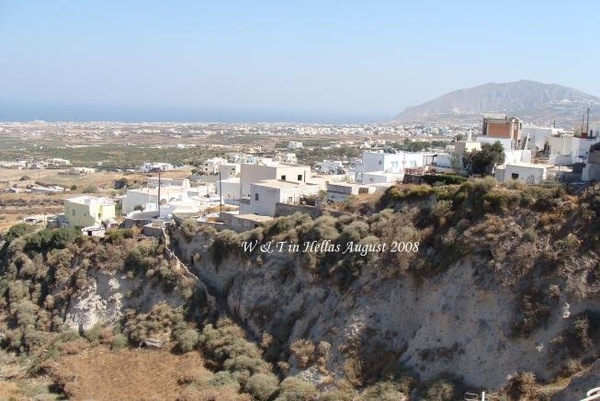 It was a wide, flat field.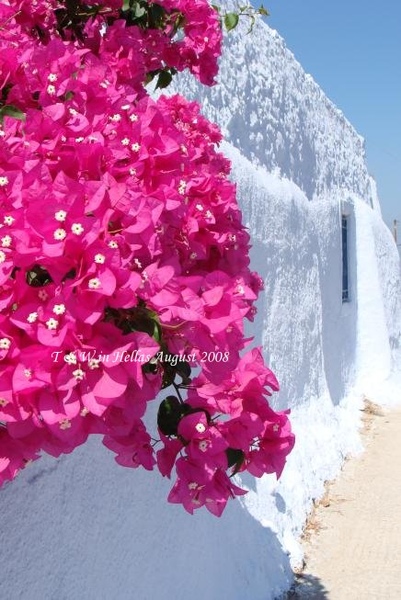 A private building. I noticed there were less hotels in the area.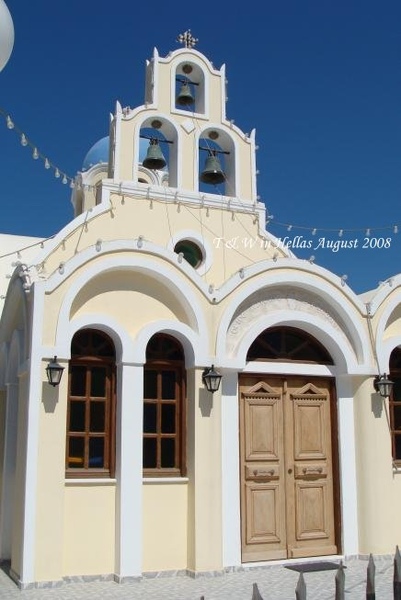 A church.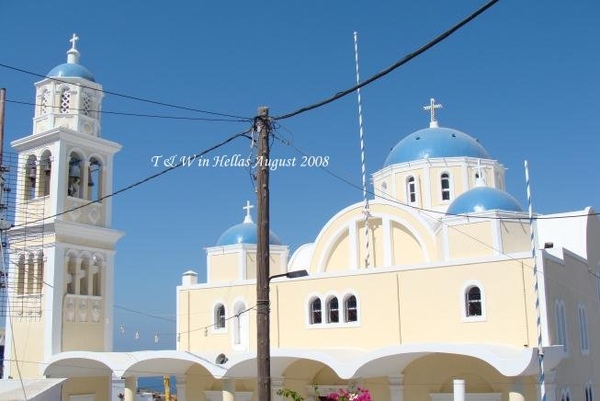 More churchs. I really wanted to remove the pole.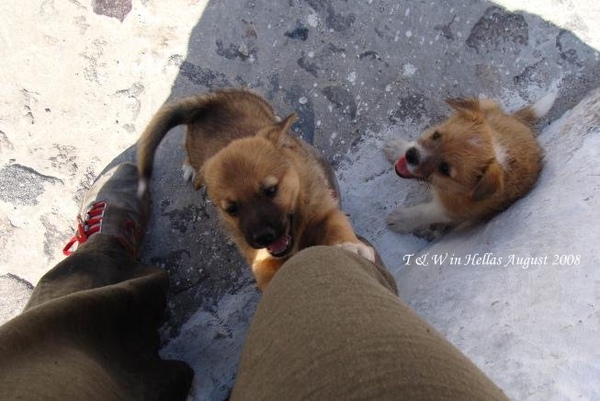 On my way back, I met these two super cute puppies!! My walking was about 50 minutes, then returned to the hotel and woke Tim up.




A bus stop was close to our hotel, we took the one that left for Oia from Fira at 5:00 pm. The bus ride was about 30 minutes.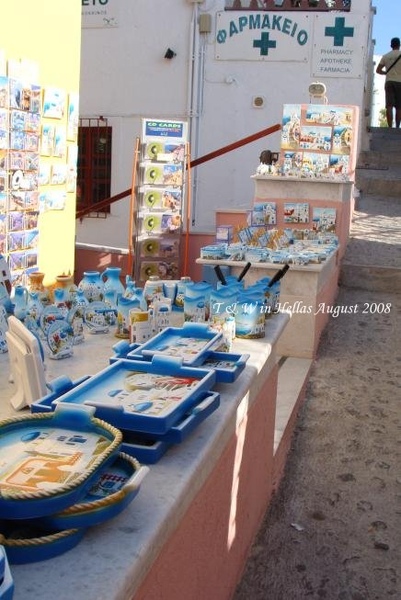 From Oia bus station, walking through an alley.




When we arrived at the cliffs, I found the missing part of Santorini. The houses built traditionally with round and smooth edges, structures in Oia looked softer and more delicate.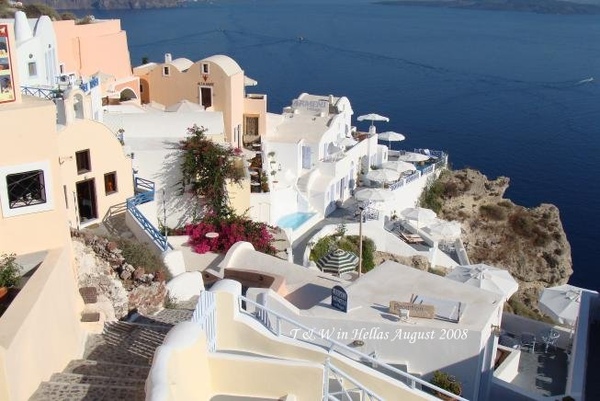 I fell in love with Oia right away, this is exactly what I was expecting for Santorini.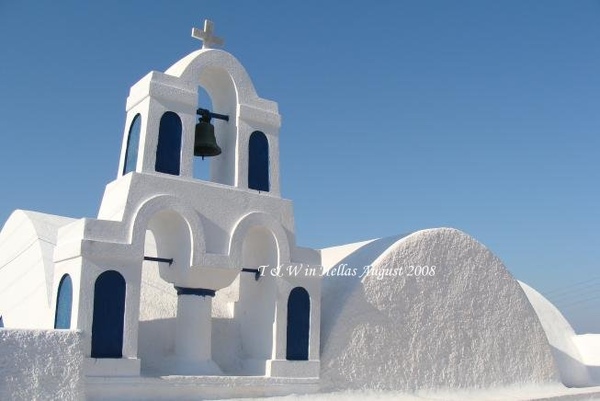 A very beautifuly rooftop of a church.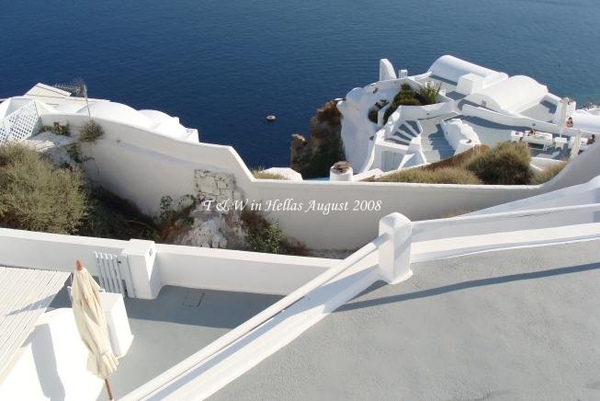 Oia is also full of hotels.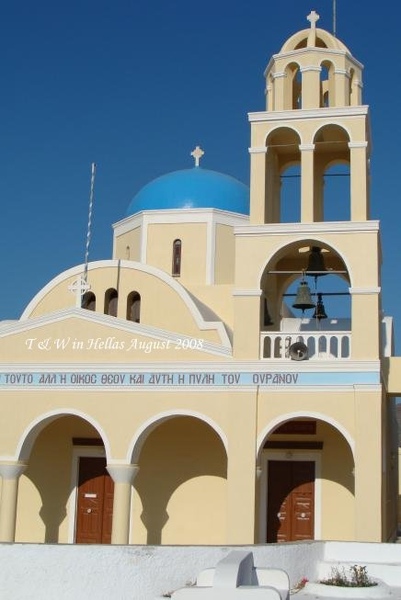 This church might be Aghios Georgios, there were to many churchs to remember.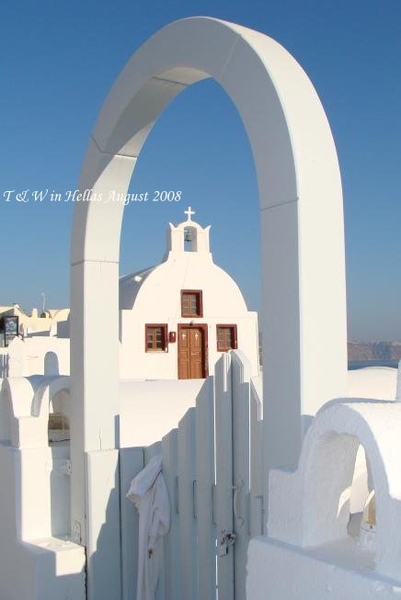 Another church in Oia.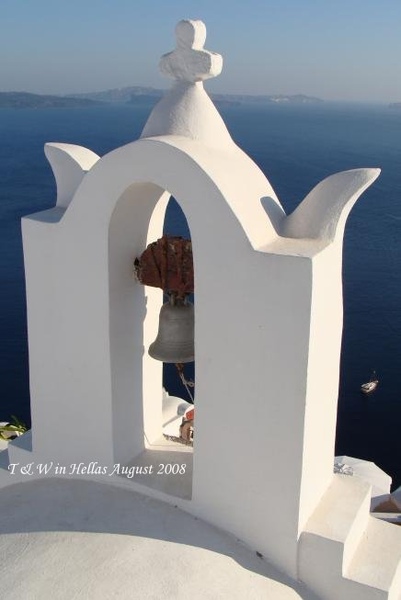 A bell tower of a church.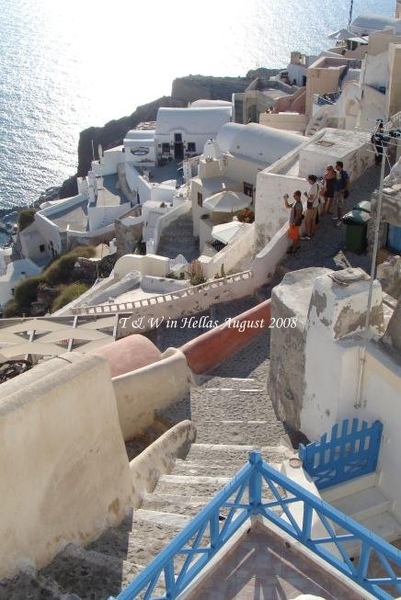 It was only 6:30 pm, people started gathering for the sunset.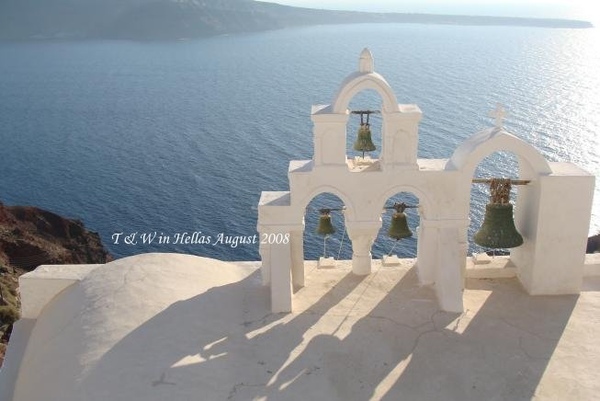 The color started changing to orange in Oia.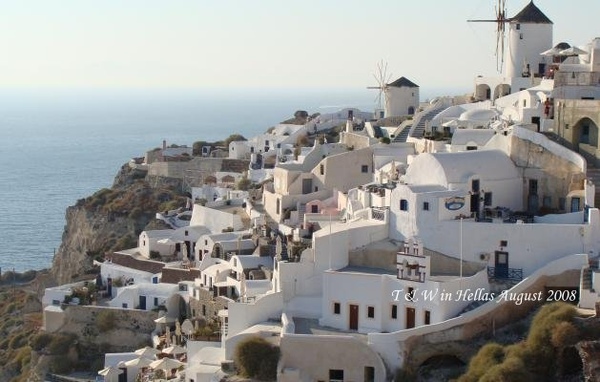 Although it was about 1 and a half hour away from sunset time, everyone found a spot and stayed there. I wanted to go look around more in Oia town, and was worried we might lose our spot at the same time, the restaurants with sunset view were all reserved, then we decided to stay where we were.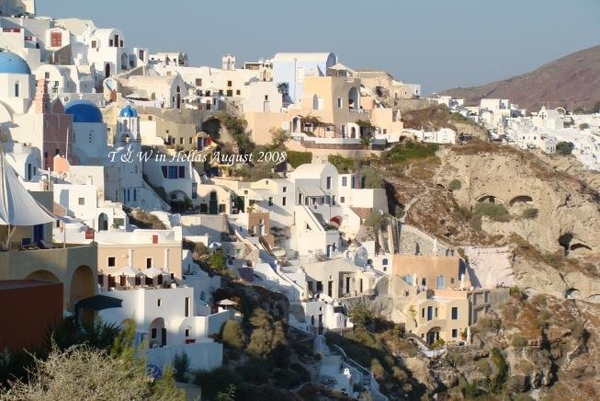 I wished we could have come here earlier.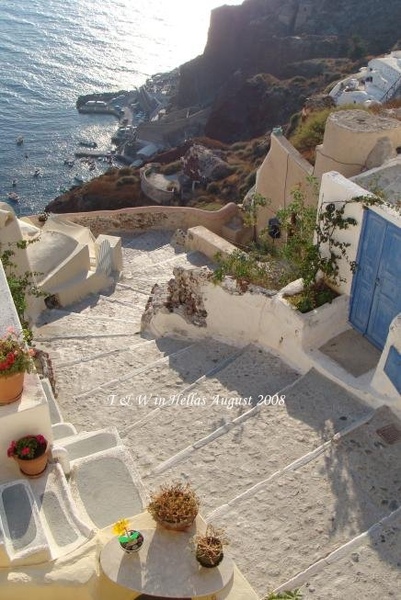 I wished we could had stayed here.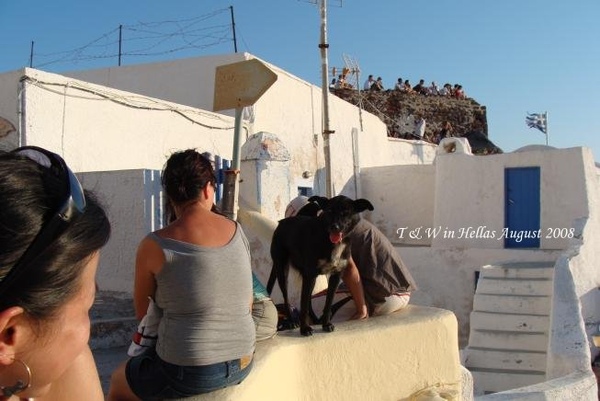 A doggy came and joined us. On the top of the castle, it was already full of people.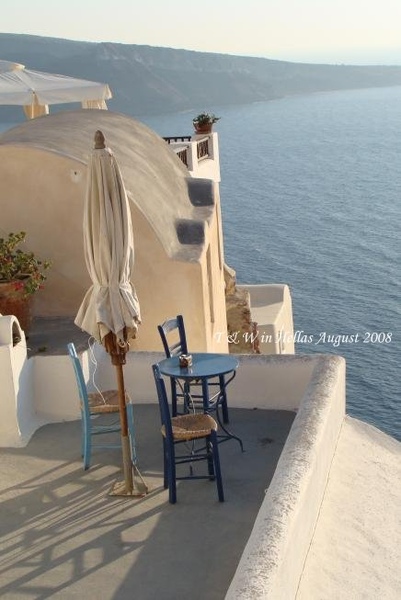 A residential rooftop with a little round table and few chairs, it was a perfect spot for the sunset. The husband came up first with a can of beer, when the time was very closed to sunset, the wife came up as well, I wondered how many sunsets they have watched together.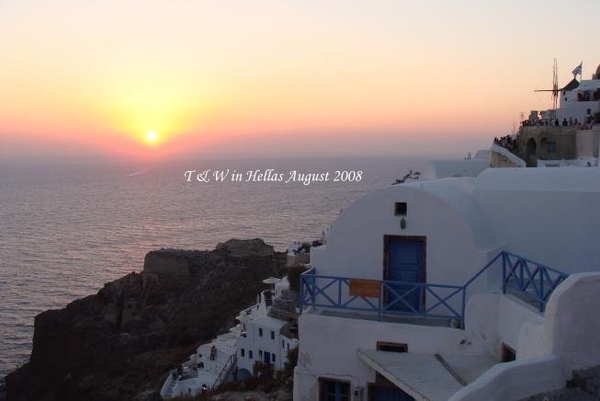 Then it started.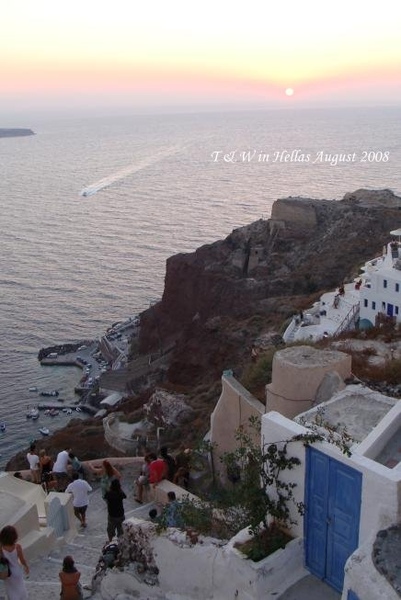 It was 8:07 pm, I would like to see the sunset with my own eyes, not through my camra, so I don't have pictures of it.




Sunset was at about 8:15 pm that day, we took a bus and returned to Fira. We arrived at around 9:00 pm, and had dinner in Fira town, I had Kleftiko at the restaurant that night.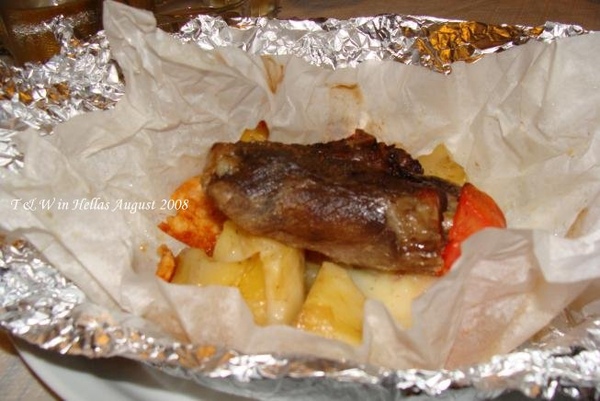 Kleftiko is a traditional Greek dish, goat meat with potatos, vegetables, garlic and cheese wrapped in parchment paper and cooked so that the juices and flavours are sealed in.
After dinner, we wandered in Fira, bought some seasoning at a gift shop, kept wandering until late night. And we would leave for Mykonos the next morning.